Sentec
Regular price
Sale price
€79.95 EUR
Unit price
per
Sale
Sold out
SEM2253 Soil Temperature Moisture Sensor
RS485
SEM2253 Soil moisture sensor is a kind of high precision and high sensitivity sensor based on frequency domain reflection principle and high frequency electronic technology. By measuring the dielectric constant of soil, the true moisture content of various soils can be directly and stably reflected.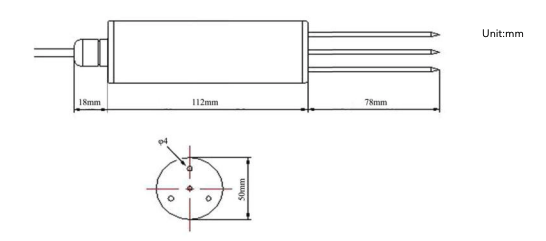 Measurement parameters:
Soil moisture + soil temperature
Unit of measurement:
% (m3 / m3)
Measuring range:
0-100% (30%, 50% or any range can be selected)
Measurement accuracy:
± 2% (m3 / m3) in the range of 0-50% (m3 / m3)
Output signal:

4 ~ 20mA (current loop)C: RS485 (standard Modbus RTU protocol, device default address: 01)

Supply voltage: 5-24 V DC , RS485); 12-24 V DC

Working range:
– 30 ℃ ~ 70 ℃
Stabilization time:
1 second after power on
Response time:
< 1s
Measurement area:
a cylinder with a diameter of 7cm and a height of 7cm centered on the central probe
Physical parameters:

Probe length: 78mm

Probe diameter: 4mm

Probe material: 316L stainless steel

Sealing material: ABS engineering plastic, epoxy resin, waterproof grade IP68

Cable specification: 2m as standard
It may happen that you want to return an order. Because the product does not suit you, maybe there is another reason why you would not want the order. Whatever the reason, you have the right to cancel your order up to 14 days after receipt without giving a reason.
After cancellation you have 14 days to return your product. You will then be credited 85% order amount excluding shipping. For more information click the following link: /pages/shipping-and-returns
The SEM2253 Soil Temperature Moisture Sensor comes with:
• 1x SEM2253 Soil Temperature Moisture Sensor
View full details