Atlas Scientific
Regular price
Sale price
€24.95 EUR
Unit price
per
Sale
Sold out
The Gravity™ Analog Isolator is designed to work exclusively with our Gravity line of low-cost embedded meters. These isolators remove all electrical interference coming from other probes or pumps in the same water you are testing.
It converts the analog output from a Gravity pH, Gravity ORP, or Gravity D.O. meter to both, a PWM and a voltage signal.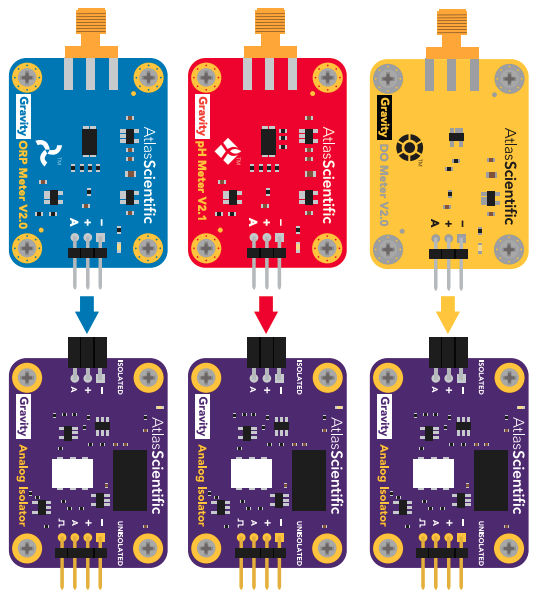 The PWM signal can then be easily converted back to a noise-free reading. Because this isolator uses PWM, it can be connected to a microcontroller that does not have an ADC, such as a Raspberry Pi.
The voltage signal converts the sensor value into 0 – 3 Volts, good for a micro-controller that does have an ADC.
*A Raspberry Pi cannot accurately read PWM or analog voltage without a 3rd party hat.

Data output
10.6 KHz PWM
0-3 Volts
Voltage input
3.0V − 5.0V
Connector
Header pins
Current consumption
5V – 23 mA
3.3V – 15.7 mA
Carrier Board dimensions
42mm x 32mm (2.2″ x 1.2″)
Weight
13 grams
It may happen that you want to return an order. Because the product does not suit you, maybe there is another reason why you would not want the order. Whatever the reason, you have the right to cancel your order up to 14 days after receipt without giving a reason.
After cancellation you have 14 days to return your product. You will then be credited 85% order amount excluding shipping. For more information click the following link: /pages/shipping-and-returns
The Gravity™ Analog Isolator comes with:
• 1x Gravity™ Analog Isolator
• 4x standoffs and screws
View full details