Atlas Scientific
Regular price
Sale price
€99.95 EUR
Unit price
per
Sale
Sold out
The gaseous oxygen sensor has been designed to read O2 levels from 0 – 420 ppt. The sensor comes calibrated and ready to use right out of the box.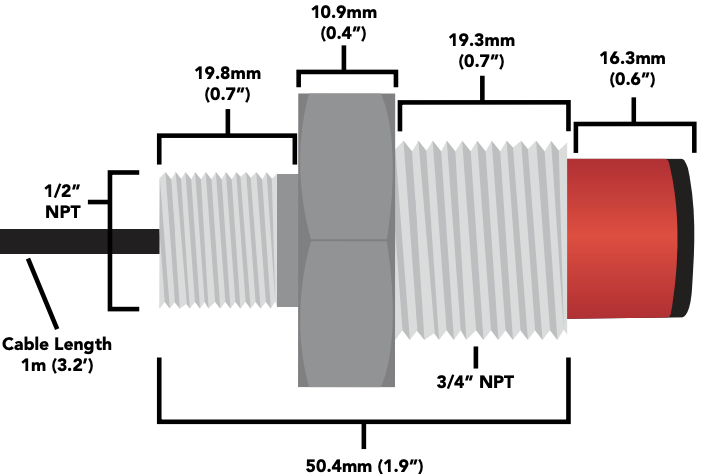 The Atlas Scientific EZO-O2™ Embedded Oxygen Sensor is an electrochemical sensing device that detects the partial pressure of oxygen through reduction. The sensor can be thought of as a small fuel cell. When the oxygen comes in contact with the sensor, the "fuel cell" begins to produce a current. A teflon membrane ensures that the oxygen enters the sensor at a steady rate.
Reads
Gaseous O2
Range
0 – 42% (2x atmospheric O2 levels)
Calibration
Factory calibrated
Pressure
Atmosphere only
Response time
1 reading per second
Resolution
0.01
Accuracy
+/- 0.01%
(0.2 PPT)
Connector
5 lead data cable
Cable length
1 meter
Data protocol
UART & I2C
Default I2C Address
108 (0x6c)
Data format
ASCII
Operating voltage
3.3V – 5V
Life expectancy
~3.5 years
It may happen that you want to return an order. Because the product does not suit you, maybe there is another reason why you would not want the order. Whatever the reason, you have the right to cancel your order up to 14 days after receipt without giving a reason.
After cancellation you have 14 days to return your product. You will then be credited 85% order amount excluding shipping. For more information click the following link: /pages/shipping-and-returns
The EZO-O2™ comes with:
• 1x embedded oxygen sensor
• 1x data cable with 5 pin male header
• 1x Locknut & O-ring
View full details