Sandbox Electronics
Regular price
Sale price
€19.95 EUR
Unit price
per
Sale
Sold out
Long Cable Extender with Buck Convertor.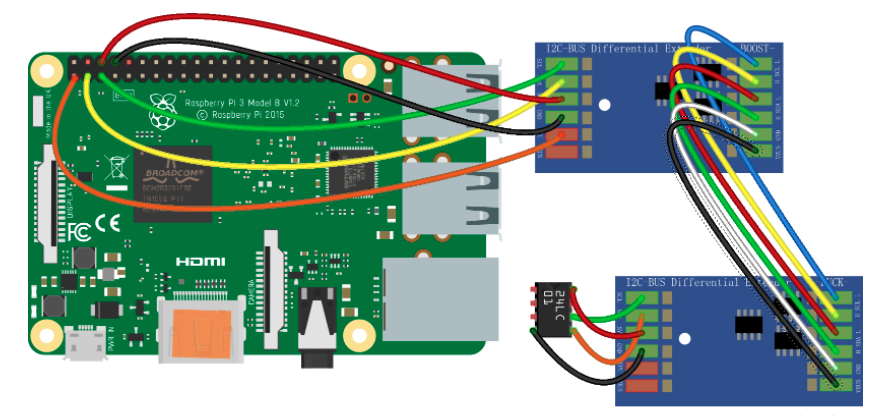 Overview
This module is designed to enable long-range I2C communications which extend the cable length from several meters to 300 meters. It is ideal for applications that need to run over long wires such as the CAT5E Ethernet cable that is commonly used to make connections between rooms. The signals are transmitted via balanced transmission lines (twisted pairs) which greatly reduces noise and extends the range. NXP PCA9600 I2C bus extender IC is used as the main component of this module. The PCA9600 is designed to isolate I²C-bus capacitance, allowing long buses to be driven in point-to-point or multidrop applications. It can operate at speed up to at least 1 MHz.
The BUCK version has an onboard buck converter that can take power from the VBUS and buck it down to 5V. This can be used to power the BUCK module itself and also the connected device(s).
The VBUS wires could provide power to the whole system. This eliminates the need to power every remote module and device separately.
Features
Bidirectional data transfer of I2C-bus signals
100 kHz operation on 300 meters of wire
1 MHz operation on 20 meters of wire
On-board buck converter (up to 36V input)
Flexible pull-up voltage
Multidrop connection
It may happen that you want to return an order. Because the product does not suit you, maybe there is another reason why you would not want the order. Whatever the reason, you have the right to cancel your order up to 14 days after receipt without giving a reason.
After cancellation you have 14 days to return your product. You will then be credited 85% order amount excluding shipping. For more information click the following link: /pages/shipping-and-returns
This product includes 1x Differential I2C Long Cable Extender PCA9600
View full details